Preventing defeating of protective devices on machinery –
Tuition modules for accident prevention
These tuition modules are intended to assist occupational safety and health speakers seeking to address the subject of the defeating of protective devices on machinery during talks for manufacturers and operators of machinery, OSH professionals and labour inspectors. In addition to an introductory module, special modules are available for personnel involved in the design and operation of machinery: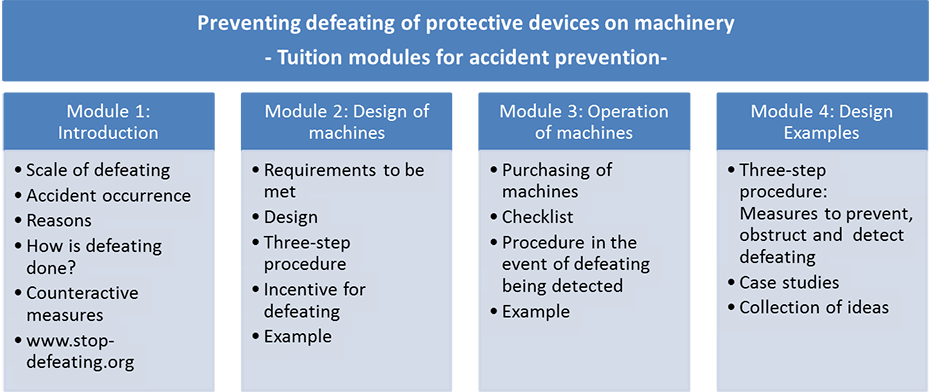 The modules take the form of Powerpoint files. The speaker's notes for each file contain further information supplementing the content of the slides. The modules can be used in their entirety or selectively as required. Speakers therefore decide for themselves how much time to devote to the subject of tampering and in what depth to address it in their talks, and can adjust their talk to the audience.
The tuition modules use examples of machines from particular sectors. The principles communicated in this way can be transferred to other sectors. Experience has shown however that participants in further training prefer examples from the area of activity with which they are familiar. Consequently, if you have added slides of your own, we would appreciate receiving them in order for us to extend the tuition modules.
Downloads of the Tuition modules for accident prevention:
*Users of Firefox and old versions of IE please use the command "Save target as" by right mouse click on the download link!
Additional information as Word data:
Information on use of the modules
The tuition modules are subject to German copyright law. The German Social Accident Insurance (DGUV) holds the intellectual property rights to the use and exploitation of the tuition modules. Contributions by third parties (images/cartoons) are marked as such.
The tuition modules may be used free of charge solely for non-commercial training purposes for the groups of course participants indicated (for example for in-company training of OSH professionals and labour inspectors). Commercial use, for example in talks/presentations for which fees are charged, is not permitted without the prior agreement of the DGUV.
All copyright information must be retained when the tuition modules are used for any purpose whatsoever. The references to the source and to the copyright holder of the tuition modules, as stated on the final page of the modules, must be retained. The same applies to the copyright information relating to third-party content and contributions (images and cartoons).
Use of the tuition modules in edited, modified or otherwise altered form (including the use of excerpts outside the scope of copyright legislation) is permissible only under the following conditions:
That the content and fundamental concept of the tuition modules are not distorted, compromised or falsified in any way, for example by deletion, substitution or addition
That any edits, alterations or other changes are indicated at the end of the presentation as follows:
Source:

Deutsche Gesetzliche Unfallversicherung e.V., Preventing defeating of protective devices on machinery – Tuition modules for accident prevention, available online at: www.stop-defeating.org/en (last amended: DD.MM.20xx)

Edited, modified or altered by: …
Last amended: 30/3/2016
Contact: Stefan Otto, IFA, Stefan.Otto@dguv.de